About 30 mispallelim arrived this morning to the Bnei Torah shul in Har Nof, Yerushalayim, for Shacharis the day after two Arab terrorists horrifically massacred four Yidden and one police officer at the bais knesses.
Arutz Sheva reports that two security guards stood at the entrance during the davening.
Among the mispallelim this morning were locals, people wounded in or present at the scene of the attack, as well as Economics Minister Naftali Bennett and MK Dov Lipman.
One of the attendees, Yitzchok Heshig, a doctor at Shaare Tzedek Hospital, who was injured in Tuesday's attack, made it a point to return to the shul for the davening, Arutz Sheva reported.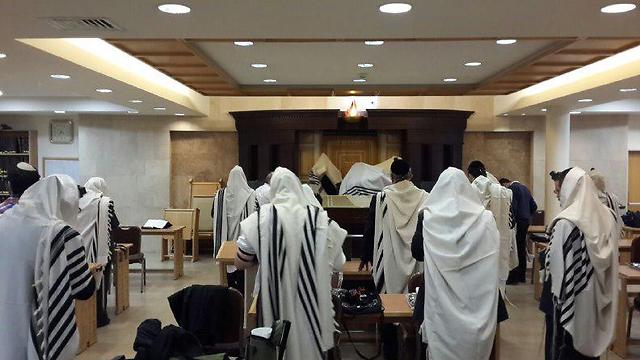 Yossi Brazzeni, who was also present during the attack, wept upon his return: "I was second to arrive this morning and I just burst into tears when I entered, but we are a god fearing people. It's as if everything is normal here, they fixed everything right up like it used to be, they did too good of a job.
I went to daven at the exact same spot I stood in yesterday and said a prayer thanking God for the miracle that took place, (miracle) because I see exactly where I was standing and where the terrorists was. Thank God."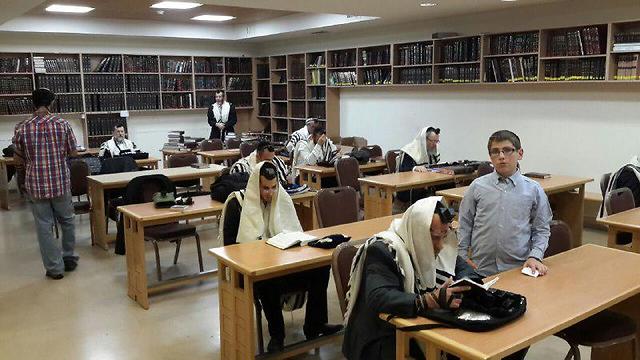 Yosef Moalemi also came to the shul. His father had been injured in the attack and is still hospitalized at Hadassah Ein Kerem.
"We came here this morning on our way to the hospital. His situation is improving thanks to prayers. Every morning we pray hard, but especially today, prayer will be from the depths of the heart."
Har Nof's Director of Community Uriel Elbaz said after the services that "we will be dealing with this difficult trauma for a long time. I can not tell if a father would take his son to the same place, but people are coming back," Elbaz told Army Radio, according to Arutz Sheva. "People are praying. The goal is to return to the normal routine as quickly as possible."
{Matzav.com Israel}