New York City residents took to the streets this evening after a grand jury said it would not bring charges in the death of Eric Garner, a Staten Island man who died in July after a police officer placed him in a chokehold.
Garner, 43, was being arrested for selling loose, untaxed cigarettes on July 17 when New York City Police Officer Daniel Pantaleo placed him in an illegal chokehold. The medical examiner ruled Garner's death a homicide, but the grand jury said Wednesday it would not indict Pantaleo.
Demonstrators gathered across the city, from the Staten Island neighborhood where Garner died to high-traffic areas in midtown Manhattan. They assembled in Times Square, Union Square and Lincoln Center. They marched down Broadway and blocked traffic on the West Side Highway. Police scrambled to keep the crowd from disrupting a lighting ceremony at Rockefeller Center.
Late in the afternoon, a group of people gathered at Grand Central Station to stage a "die-in." Protesters stretched out on the terminal floor to represent victims of police brutality. Police, who have been preparing for days for the protests, stood by.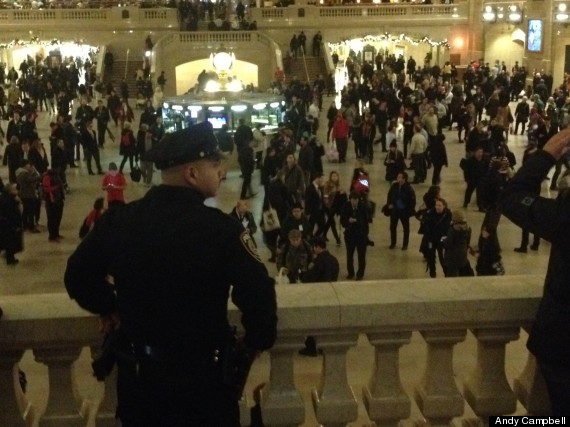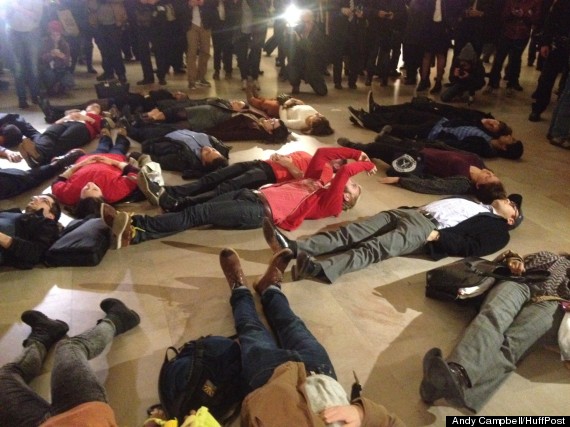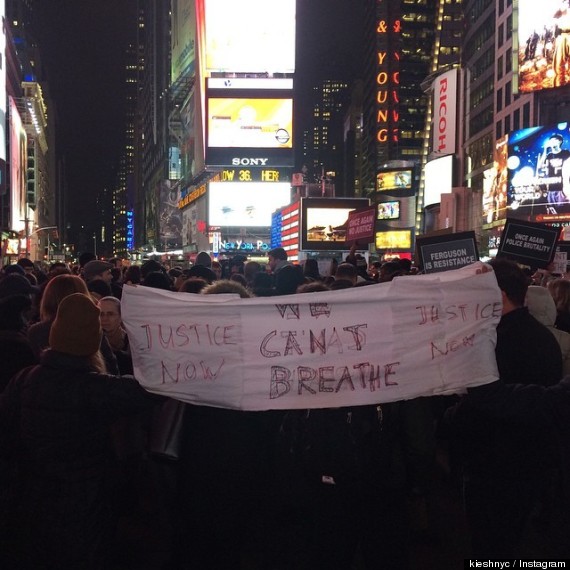 Starting at about 8 p.m., a crowd of about 300 demonstrators marched from Times Square to 125th Street in Harlem, chanting, "No justice, no peace! [Curse] the police!" As they passed through the Upper West Side, dozens of residents came to their windows to watch.
Tyra Morrissett marched around Times Square carrying a sign that insisted her life is worth more than 75 cents, a reference to the tax Garner was allegedly avoiding by selling loose cigarettes.
At 8:30 p.m. a separate group of protesters had moved onto the West Side Highway and obstructed traffic there. Police officers appeared on the West Side Highway shortly afterward.
At 10 p.m., hundreds of protesters took over the main terminal of Grand Central Station. The group chanted, "What do we want? Justice! When do we want it? Now!" Diners sipped champagne in one of the terminal's restaurants, and one of them appeared to flip off the protesters.
A crowd of protesters attempted to march into the Lincoln Tunnel at 10:30, but were blocked by police. Traffic in the tunnel was obstructed for about a half hour.
A car was found torched outside the 77th Precinct in Crown Heights, Brooklyn, around the same time. An NYPD spokesman said it was unclear whether the incident was connected to the protests.
The car was not an official police vehicle, the spokesman said, adding that no arrests have been made in connection with the incident, and an investigation into it is ongoing.
ashdollarsign/TwitterProtesters lie in the 


{Matzav.com Newscenter}