By Rabbi Judah Mischel
It was a beautiful day of appreciation and unity, as Camp HASC (
http://camphasc.org/) 
hosted a festive luncheon in honor of 
Congressman John Faso
, Representative of New York's 19
th
 District. Over forty local and State officials, community activists, politicians and camp directors joined the program honoring Representative Faso as an expression of our community's appreciation for Congressman Faso's ongoing support and friendship.
Camp HASC in Parksville, NY, is longest-running and most prestigious summer program for individuals with special needs and developmental disabilities.
Congressman Faso and members of the delegation enjoyed a hands on tour of the beautiful campus, joined recreational activities with the special campers, and were treated to an inside look at the educational and therapeutic facilities at Camp HASC.
Campers cheered for Congressman Faso to join them in the pool, and settled for shooting hoops instead. During an adaptive gym class, delegation members jumped into a musical flashmob and spontaneous celebration and enjoyed meeting campers and staff.
Guest speaker Mrs. Ruth Lichtenstein, Publisher of Hamodia and Director of Project Witness, shared her first hand experiences as the parent of a child with special needs, and spoke of the importance of Summer respite at Camp HASC – for the campers as well as their families.
Sandra Gerry, chair of Sullivan Renaissance, which last year presented Camp HASC a $10,000 Community Mitzvah Award for beautifying its facility, also addressed the crowd at the luncheon.  A visibly moved Gerry commended the camp for its efforts noting, "not only did you get the Mitzvah Award but I think what you are doing is a beautiful mitzvah."
Co-Chaired by Rabbi Chaim David Zweibel, Executive Vice President of Agudath Israel of America and noted Askan Mr. Abe Eisner, the first annual Legislative delegation and luncheon was an incredible outpouring of Hakaras Hatov, support and Kidush Hashem.
Photos by Benjamin Korn Photography & Dani Hagler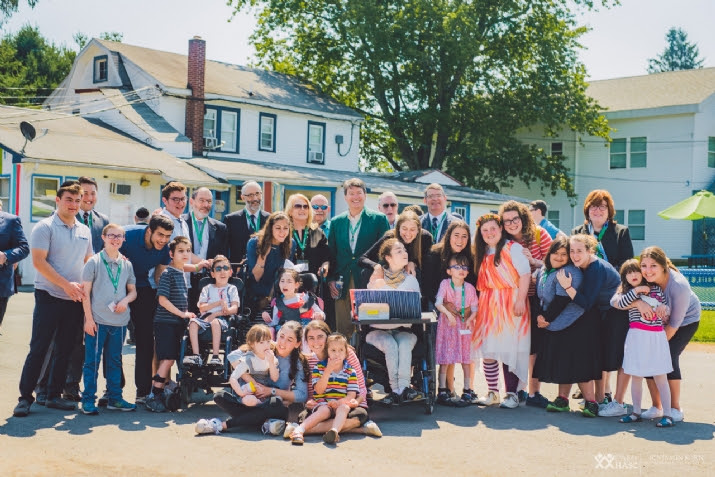 1. Congressman Faso and members of the delegation with Camp HASC campers and staff
2. Adaptive bikes in the Camp HASC gym
3. Flashmob and spontaneous joy at Camp HASC
4. Yossi Menczer in discussion with Congressman Faso
5. Hoops for HASC: Congressman Faso enjoying some basketball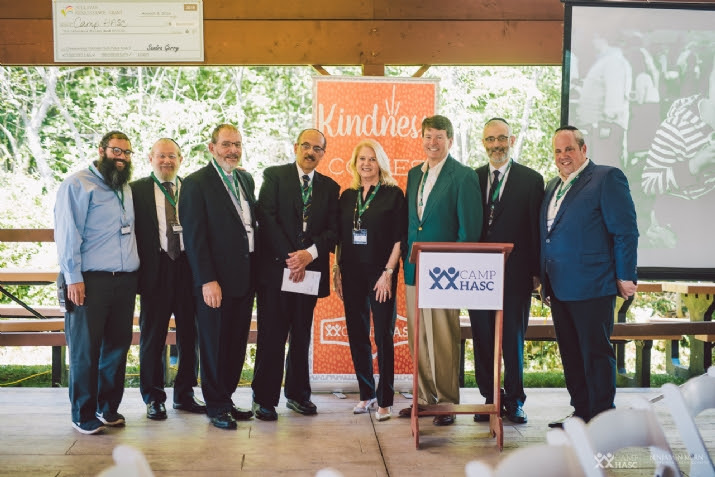 6. L-R: Camp HASC Executive Director, Rabbi Judah Mischel, Rabbi Solomon Stern, Camp Director Shmiel Kahn, Mr. Abe Eisner, Ms. Sandra Gerry of Sullivan County Renaissance Project, Conressman John Faso, Rabbi Chaim David Zweibel, Executive Vice President, Agudath Israel, Mr. Jeremy B. Strauss, Chairman of the Board of Directors, Camp HASC
7. Ms. Sandra Gerry, Sulivan Renaissance Project
8. Rabbi Chaim David Zweibel, Executive Vice President, Agudath Israel of America
9. Congressman Faso receiving award from Campers Eli Gorelick and Rachel Grey; with Rabbi Chaim David Zweibel, Executive Vice President, Agudath Israel of America
10. Congressman Faso receiving award from Camp HASC Executive Director, Rabbi Judah Mischel and camper Rachel Grey
11. Congressman Faso addresses the Luncheon
12. Congressman Faso with Luncheon Co-Chairs, Mr. Abe Eisner and Rabbi Chaim David Zweibel
13. Congressman Faso with Camp HASC Executive Director, Rabbi Judah Mischel & Co-Chair Rabbi Chaim David Zweibel of Agudath Israel of America
14. Shimon Ostreicher talking to a camper – A touching moment
15. Congressman Faso, Luncheon Co-Chair Mr Abe Eisner and camper Yehuda Menkes
16. A heartwarming moment at Camp HASC