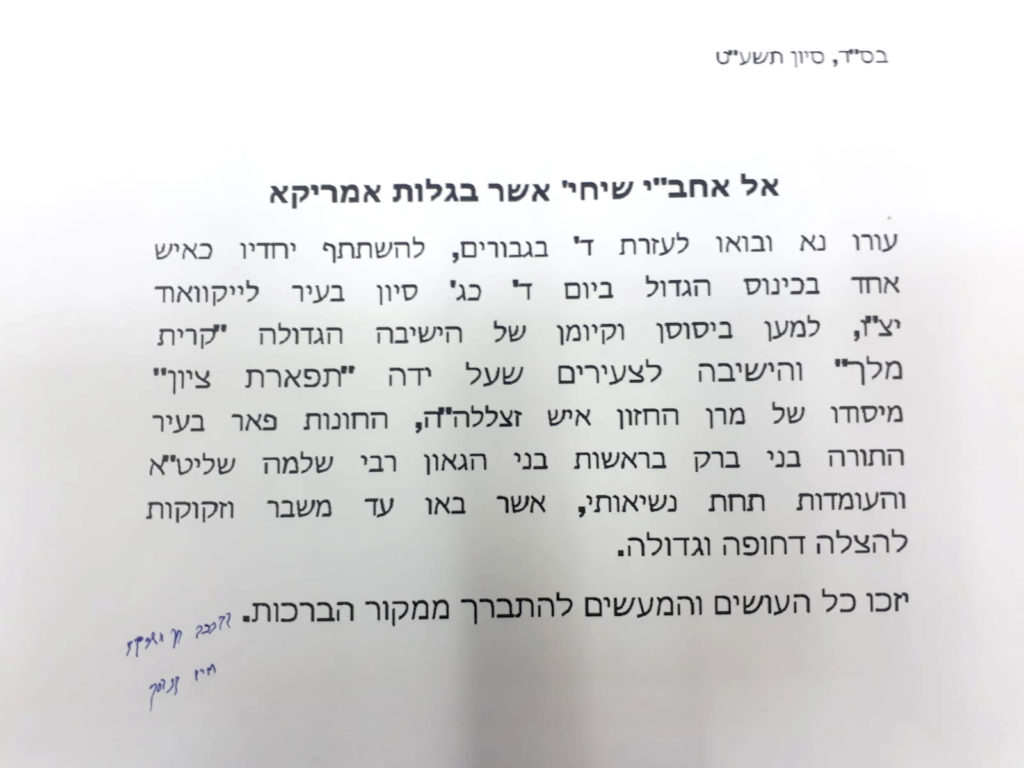 These words have been on everyone's minds – and in front of us virtually everywhere we look – since the launch of the momentous and unprecedented campaign to save Yeshiva Kiryas Melech of Bnei Brak, led by Rav Shlomo Kanievsky.
The campaign has been unlike any other of its kind in recent memory, drawing support and chizuk from communities across the American Torah world, with the encouragement of roshei yeshiva and rabbonim, heeding the call of Rav Chaim Kanievsky, who has expressed, in unique terms, his brocha to those who assist his son, Rav Shlomo, in facing off the devastating financial crisis facing the yeshiva.
Kiryas Melech has a rich and illustrious history. Its Yeshiva L'tzeirim division, Tiferes Tzion, was founded by Rav Chaim's uncle, the Chazon Ish. This bastion of Torah has produced giants of Torah since its inception many decades ago, and has been staffed by gedolei Torah such as Rav Michel Yehuda Lefkowitz. Today, it continues to operate under the direct nesius of Rav Chaim and the guiding hand of its venerated rosh yeshiva, Rav Shlomo.
The American Torah world has united in this effort to rescue and ensure the vitality of Kiryas Melech, coming out to greet Rav Shlomo at events held across the tri-state area and beyond.
Naturally, as the Ihr HaTorah of the United States, Lakewood is playing a central and integral role in the current campaign of hachzokas haTorah. That effort will continue with a not-to-be-missed event for men this Wednesday, June 26, at Shiras Devorah High School on Oak Street. The guest speaker will be Rav Chaim Mordechai Ausband, rosh yeshiva of Yeshiva Ateres Shlomo and formerly rosh yeshiva at Yeshiva Kiryas Melech.
At the event, Rav Bentzion Hakohein Kook, head of the Bais Horaah Haklali of Yerushalayim and talmid muvhak of Rav Yosef Shalom Elyashiv, will deliver divrei brocha and offer his birkas kohein. Rav Kook will read a special letter from Rav Chaim Kanievsky in honor of the event.
Rav Dovid Cohen, rosh yeshiva of Yeshivas Chevron in Yerushalayim, will address the event live via hookup.
Rav Shlomo Kanievsky will address the assemblage as well, offering his heartfelt gratitude to the olam haTorah in Lakewood and elsewhere for welcoming him with such graciousness and extending themselves in such an extraordinary way to support and sustain the yeshiva that operates under his auspices.
Rav Chaim Kanievsky has issued a letter urging all members of the Lakewood community to attend the asifa, blessing all those who do so.
(click HERE to donate)