At least 10 people were killed and a number of other people were injured when a storm with a massive tornado struck an area outside Oklahoma City this afternoon, officials said.
At least one school in Moore, Oklahoma, appeared to have been hit by the tornado. Emergency personnel were scouring the school's rubble Monday evening, video from CNN affiliate KFOR showed. The footage also showed a number of other leveled buildings.
The tornado was estimated to be at least 2 miles wide at one point as it moved through Moore, in the southern part of the Oklahoma City metropolitan area, KFOR reported. Video from CNN affiliates showed a funnel cloud stretching from the sky to the ground, kicking up debris.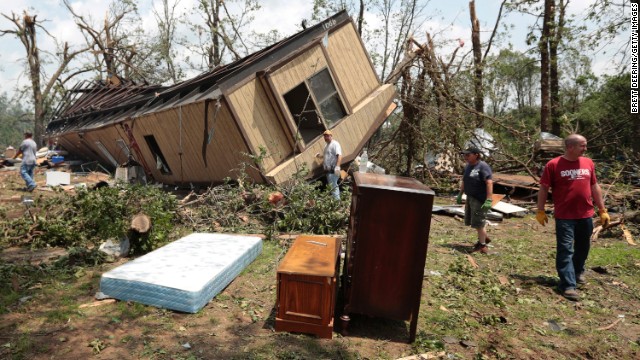 — The bodies of 10 people who died as a result of the storm that hit he Oklahoma City area Monday were being sent to Oklahoma's office of the chief medical examiner, the office's Amy Elliott told CNN.
— About 38,000 customers of utility OG&E were without power in metropolitan Oklahoma City after Monday afternoon's storm, utility spokesman Brian Alford said.
Alford also said the storm knocked out power to the Oklahoma City area's Draper Water Treatment Plant.
OG&E is working to restore power to the plant. City officials are asking residents to turn off their sprinkler systems and postpone washing dishes and clothes, according to a message on the city government's website.
— Hospitals in metropolitan Oklahoma City are treating a number of people injured in the storm that hit the area Monday afternoon.
Twelve adults and eight children are being treated at the Oklahoma University Medical Center and The Children's Hospital in Oklahoma City, OU Medical Center spokesman Scott Coppenbarger said. "We expect more patients to arrive this evening," Coppenbarger said.
Elsewhere, the Norman Regional Hospital and the Healthplex in Norman, Oklahoma, are treating an unspecified number of people with "signs of trauma, lacerations and broken bones," spokeswoman Melissa Herron said.
— The preliminary rating of the Moore tornado is at least EF-4 (166 to 200 mph), the National Weather Service said on Monday afternoon.
— Interstate 35 in Moore, Oklahoma, was closed as a result of debris from the tornado that hit the area Monday afternoon, Oklahoma Department of Transportation spokesman Cole Hackett said. Crews were headed to the north-south highway to start the cleanup process, Hackett said.
— "People are trapped. You are going to see the devastation for days to come," Betsy Randolph, spokeswoman for Oklahoma Highway Patrol, told CNN late Monday afternoon. She did not say how many people were trapped. "Send your prayers heavenward because there are people fighting for their lives."
— The National Guard has been activated in response to the tornado, Oklahoma Department of Emergency Management spokeswoman Ann Lee said.
— Will Rogers World Airport reopened around at about 6 p.m. ET, spokeswoman Karen Carney said. All flights are delayed, and at least six flights have been canceled, she said.
— Lance West, a reporter for CNN affiliate KFOR, said people late Monday afternoon were pulling students from a classroom at an elementary school heavily damaged by the tornado that hit Moore. There are no immediate reports on the condition of the children.
— Congressman Tom Cole, who lives in Moore, told CNN's Wolf Blitzer on Monday afternoon the damage he saw on TV looks as bad as a 1999 tornado that destroyed more than 1,000 houses in his hometown.
— McClain County Undersheriff Bill Shobe reported Monday afternoon there is significant damage near Newcastle, Oklahoma. Shobe went on to say there are a lot of structures with damage north of Newcastle and in the town of Tuttle. Most of the damage is parallel to Highway 37, he said.
— Moore Medical Center in Oklahoma was evacuated after it sustained damages from the tornado, a hospital spokeswoman told CNN's Sarah Baker. All patients are being evacuated to Norman Regional Hospital and Health Plex Hospital, and residents injured in the storm are being told to go to those centers as well.
— A tornado struck just Moore, Oklahoma, south of Oklahoma City on Monday afternoon, ripping apart homes and other buildings in populated areas. The National Weather Service issued a rare tornado emergency for the Oklahoma City metropolitan area, meaning that significant and widespread damage and fatalities were likely.
Meteorologists warned residents to go underground to survive a direct hit from the tornado.
Read more at CABLE NEWS NETWORK.
{Matzav.com Newscenter}